Hi everyone, In the last two months we noticed some dark patches forming on the skin of our Pug Charlie. He doesn't itch but they seem to be getting bigger... and just today we noticed some redness on his upper lip.. check these pics out.. Can anyone shed some light on what this may be? Thanks a million for any feedback.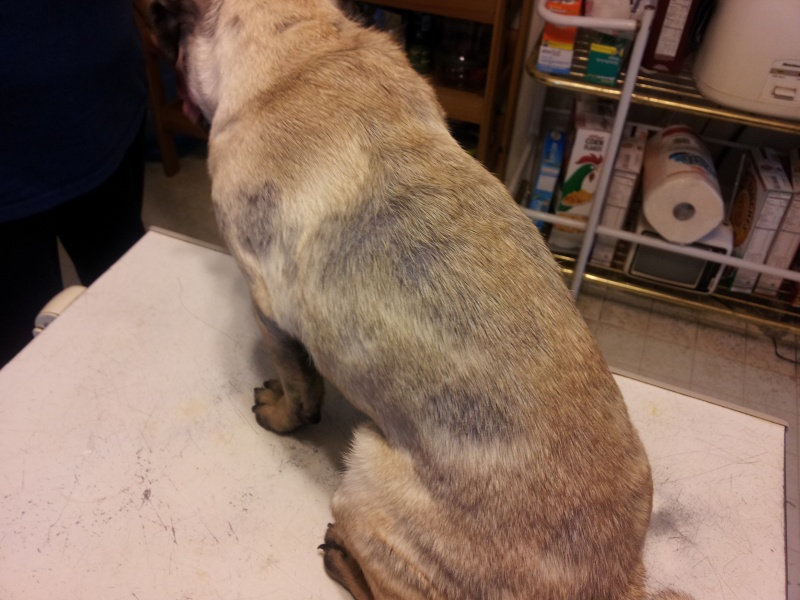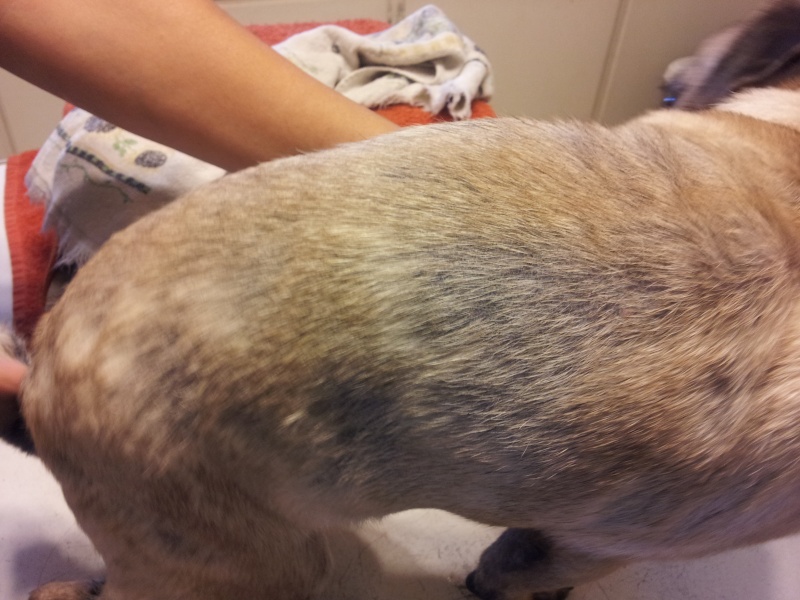 [/url]
https://i.servimg.com/u/f36/17/86/31/54/20121015.jpg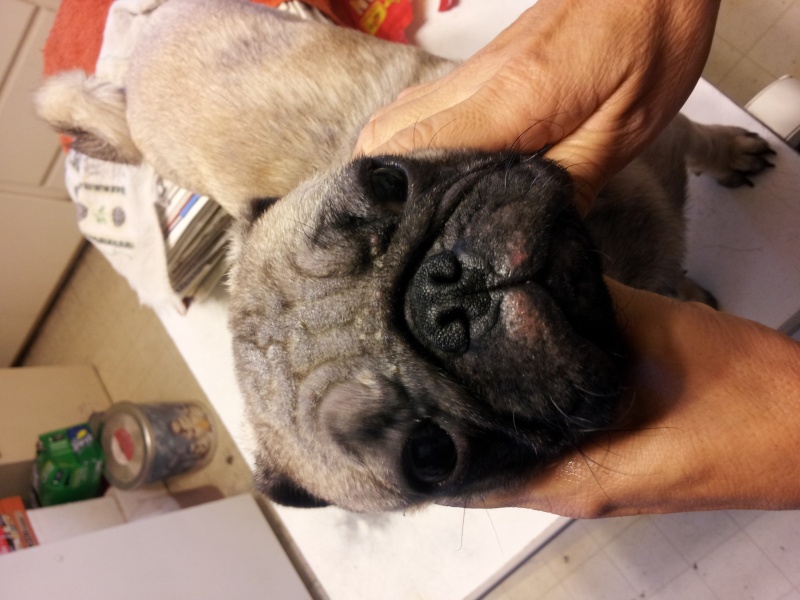 jeffalva

&nbsp





Number of posts

: 1



The red lips look like allergies. Possibly food allergies, but also eating & drinking out of bowls that are either plastic or not getting cleaned after every feeding. Switch to stainless steel bowls for water and food, and make sure to wash daily. As for food, if you don't already, basically everyone on this site is going to suggest switching to a high-quality, grain free kibble that uses a novel protein source. Keep in mind, eliminating allergens is not an overnight thing. And, if you eliminate the allergens in the food, but continue to feed treats with the offending ingredients, you won't be making a difference. So, switch foods and treats to make sure you really are eliminating the allergen.

As for the black patches, I would have a vet look at those. Could be yeast... could be something else. Could be allergies, could be a parasite. I would just visit the vet and get a skin scrape done.

What is strange is another newbie posted a picture of her pug that had a similar large black spot too. I don't know what the outcome was of hers. We suggested a vet visit and eliminating allergens, but I am not sure if she followed up on either one.
Yes, agree with Renee and also the face looks like it could be demodex. You need to see a vet ASAP for proper diagnosis. Both conditions are highly treatable with dedicated care, but you need to have your vet do the proper testing.

The very best of luck and please let us know how you get on.

Aussie Witch

&nbsp





Number of posts

: 8556


Location

: The Antipodes.



Agree with everyone else...need to get to the vet. I'm sure they'll do a skin scraping and go from there as far as treatment. Good luck!!! Please keep us updated.

Lilos Mom

&nbsp





Number of posts

: 714


Location

: Wixom, Michigan



Those puffy red lips definitely remind me of my Marlee as a puppy. She was surrendered to the shelter with pretty bad demodex (a type of mites that aren't contagious to humans, but that definitely require trips to the vet for diagnosis, meds, and follow-up).
This photo was taken about a week after I started fostering her. Please see a vet ASAP. Whether it's demodex, allergies, or something else, secondary skin infections are likely without prompt medical care.
My coworkers nicknamed Marlee "Hot Lips." Your pug's lips remind me of hers.
" alt="" />

SacramentoPugs

&nbsp





Number of posts

: 1428


Location

: California



When I got Zorro he had the same redness on his face - it was puffy and looked a bit scraped in spots. The vet determined that it was a food allergy and I went through a long LONG process of elimination, etc. Now he eats Taste of the Wild and there is no problems at all. However, one bad treat and he flares up in less than 24 hours!

When I got Turbo he had these big black patches on his back and side. He had actually rubbed them down to the skin. A trip to the vet determined that he was probably stressed out! I had to put some cream on his spots (Bailey's Skin Repair) and the itching stopped, the black mark faded and the hair grew back.

juneau hunter

&nbsp





Number of posts

: 2896


Location

: New Brunswick, Canada




---
Permissions in this forum:
You
cannot
reply to topics in this forum